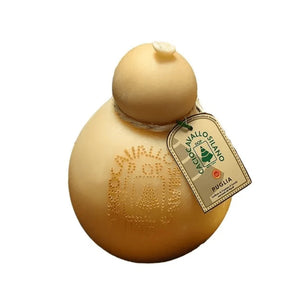 Description
Artigiano Caciocavallo is a traditional aged cheese
This type of Italian cheese has a bold, somewhat spicy flavor.

Try this unique cheese in a caprese salad or pasta dish.
Artigiano Caciocavallo Silano DOP is an authentic Italian cheese with a unique teardrop shape. This stretched cheese originated in Southern Italy, where it is tied together with a rope and hung over a wooden board to age. While caciocavallo is traditionally made from both sheep's milk and cow's milk, this variety is made with raw cow's milk.
Enjoy this popular Italian cheese in a variety of pasta dishes and other recipes. It's bold, aged flavor makes it a fitting alternative to both parmigiano reggiano and pecorino romano in many dishes.
Sample this cow's milk cheese on a charcuterie board with dry-cured meats and extra virgin olive oil. Or compare it to creamy cheeses and soft Italian cheese varieties on a cheese board. Pair this flavorful Italian cheese with a glass of red or white wine for a delightful snack.
Ingredients:
Raw cow's milk, rennet salt.
Size:
4 Lbs ( average)
Origin:
Product of Italy