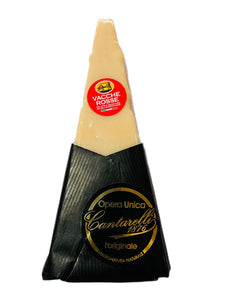 Description
Vacche Rosse Cheese is 24-month aged Parmigiano Reggiano
Traditional Parmigiano Reggiano is often called "the king of cheeses."

Savor the original parmesan cheese on a charcuterie board with cured meats and fresh fruit.
Parmigiano Reggiano is named after the provinces in which it is made: Parma and Reggio Emilia. Characterized by tiny white crystal grains, Parmigiano Reggiano has a hard, gritty texture and is sharp and nutty in taste. Cantarelli's Red Cow Parmigiano Reggiano cheese is aged for 24 months. This long aging process gives this authentic Italian cheese its distinct flavor and delicate aroma.
The cheese is frequently grated over pastas and used in soups and risotto recipes. It can also be eaten on its own as a snack, or served alongside charcuterie meats such as salami and prosciutto. Or sample it on an Italian cheese board with fruit and crackers. Pair Vacche Rosse cheese with your favorite bottle of wine, or even champagne for a special occasion.
Ingredients:
Milk, Salt, Rennet
Size:
8.8 oz
Origin:
Product of Italy