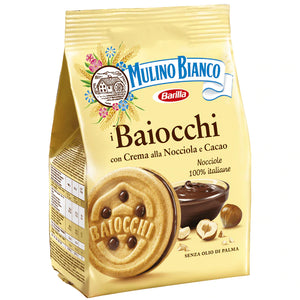 Description
Product Description:
Italy's top cookie brand Mulino Bianco comes to your home with these 100% Italian hazelnut-filled Baiocchi Cookies.
Ingredients:
Wheat flour, sugar, margarine, eggs, milk powder, raising agents (ammonium hydrogen carbonate, sodium hydrogen carbonate, monopotassium tartrate), pasteurized whole milk, glucose syrup, salt, starch wheat, spices. Cream (28% on finished product): sugar, vegetable fat, hazelnuts (6.7% on finished product), cocoa (2.8% on finished product), milk powder, wheat starch, spices. May contain traces of nuts, peanuts, sesame and soy.
Size:
7.05 oz (200 grams)

Origin:
Product of Italy