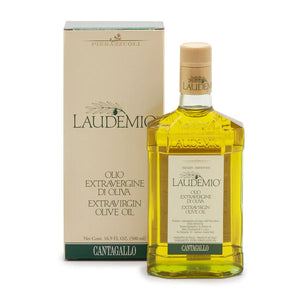 Laudemio was born in 1986 as the first union in Italy for the protection of the quality of the Tuscany extra virgin olive oil. This oil was produced from early harvested Tuscan varieties of Frantoio, Moraiolo and Leccino olives grown and pressed on the hillside estate of the Tenuta Cantagallo in Capraia Fiorentina region. Clear and intensely green, fruity, full, well-rounded and spicy. Square-edged glass Bottle 16.9 fl.oz. (500 ml) + Box. Harvest 2020/2021, Best By 12/2022.
area of origin: Capraia e Limite
cultivar: Frantoio, Moraiolo e Leccino
altitude: 250 mt.
number of olive trees: 6000
acidity: 0.16 %
raising: November
raising method: manual
extraction: two-phase centrifuges
oil mill location: Via Valicarda, 35 50050 capraia e limite
color: golden green
odor: Elegantand fruity with notes of fresh cut grass
flavor: Well-defined, balanced, with notes of artichoke
density: 6x6
Extravergine olive oil name: Laudemio Cantagallo Production Zone: Capraia e Limite Climate: Mediterranean. Ground: Galestro Altitude: 250 mt s.l.m. Growing: Mixed shape Olives oil: 50% Frantoio, 45% Moraiolo, 5% Leccino Average age of trees: 55 years Extraction Process : two-phase centrifuges Metodo di conservazione: in steel at controlled temperature without contact with air. Filtration: large particle filtration with cardboard filter. Color: golden green Nose: Elegantand fruity with notes of fresh cut grass, thistle and the perfume of steamed artichokes. Taste: Well-defined, balanced, with a nice notes of artichoke and thistle. Intensive, elegant and harmonious. Match: Excellent match for typical Tuscan bruschetta, beans and lentils soups and salads.Great also for accompanying grilled red or white meat, game and marinated fish. The extra virgin olive oil should be stored in a cool, dry place, away from heat sources and in environments without major fluctuations in temperature (best between 14 and 20 ° C Packaging: 100ml, 250 ml and 500ml
size:
500 ml (16.9 oz)

Origin:
Product of Italy
Laudemio olive oil
Was having trouble with my cholesterol and white blood cells staying normal. I started taking 2 tablespoons of olive oil along with fresh squeezed lemon in the morning and now my blood results have been all normal for over the past year.
Great Olive Oil!
I was so impressed with the first two bottles I ordered that I ordered an additional two bottles! Superior olive oil! I also love how quickly both orders arrived. With this kind of product, and service, I will be a lifelong customer.
Great product!
I ordered 2 bottles. One arrives broken and leaking. I contacted the seller and they rectified the situation immediately. Which I was very thankful for. The product its self is amazing, with great flavor. I will order again.
Tasted real olive oil for the first time
As soon as I got this product, I took a teaspoon of the organic oil that we had been buying and then a teaspoon of this oil and the difference is considerable. I believe that this is the first time that I have tasted real pure olive oil in my life. I will take 2 tablespoons of this from now till the time I die and based on research because I take 2 tablespoons a day, along with other positive lifestyle habits I will live longer.