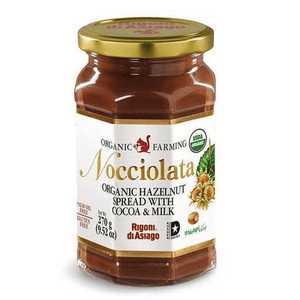 Product Description:
Rigoni di Asiago Nocciolata Dairy Free tastes so good it won the 2018 sofi Silver Award for Best Vegan Product. Before that, it won the 2017 award for Best New Product. In short, this dairy-free hazelnut spread does not compromise on taste. Enjoy one of the best hazelnut spreads in the world without worrying about your dietary restrictions!
Quality ingredients produce superior taste. Only certified organic ingredients go into each jar of creamy, dreamy Nocciolata. That means no chemicals, no artificial flavors, no GMOs and absolutely zero palm oil. Nocciolata is still made following the Rigoni's exclusive family recipe. It is a slow process that uses only carefully selected ingredients like dark chocolate from the Antillean Islands, Italian hazelnuts (16%), brown sugar, skim milk and Bourbon vanilla extract. Enjoy Nocciolata any time of day. Try it in the morning on toast, or on a crusty bread for a delicious afternoon snack. Nocciolata is the perfect special ingredient for cakes, crepes, cookies, muffins, and many more recipes. It's fantastic as a frosting or filling in all your baking inventions! No matter how you enjoy it, there are always new ways to love Nocciolata!
Product of Italy.


Ingredients:
cane sugar, hazelnut paste, sunflower oil, cocoa powder, cocoa butter sunflower lecithin, vanila extract. May contain traces of other nuts. Vegan.
Size:
9.52 oz.
Origin:
Italy
Delicious and Better Quality Ingredients
I wish I had purchased several jars of Nociolatta while I was at it! This chocolate-hazelnut spread is so delicious, I ate half the jar in two days just by little spoonfuls throughout the day. I bought it because it had much higher quality ingredients than the mainstream brand that is available in supermarkets. I much prefer the cane sugar and safflower oil in Nociolatta to high fructose corn syrup and palm oil in the other brand. It is worth paying more for yummy Nociolatta.