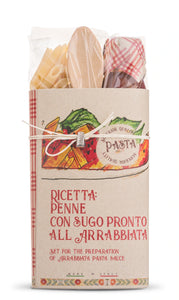 Organic Italian Pasta Kit Penne Arrabbiata Sauce by Casarecci di Calabria.
The kit includes:
Organic Pasta, Tomatoes and Basil Sauce & Wooden Fork .
Makes 3 Servings.
Italian Artisan Pasta ingredients: Organic Durum Wheat Semolina, Water - 8.8 oz. - Cooking time: 7/10 minutes.
Italian Tomato Sauce ingredients: Italian Tomato Pulp (94%), Olive Oil, Hot Chili Pepper From Calabria (2%), Parsley Salt, Garlic, Citric Acid
All Natural - Product of Italy. Store in a Cool, Dry place.