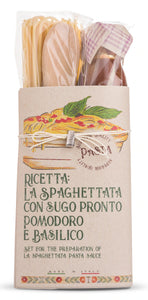 Organic Italian Pasta Kit Spaghetti With Tomato Pasta sauce by Casarecci di Calabria.
The kit includes:
Organic Pasta, Puttanesca  Sauce & Wooden Fork .
Makes 4 Servings.
Italian Artisan Pasta ingredients: Organic Durum Wheat Semolina, Water - 8.8 oz. - Cooking time: 7/10 minutes.
Italian Tomato Sauce ingredients: Italian Tomato Pulp (94%), Olive Oil, Basil (2%), Salt, Garlic, Citric Acid
All Natural - Product of Italy. Store in a Cool, Dry place.
Love this company and food.
Was introduced to this in Italy in some of the tourist stores. Thought it was really pretty interesting bought some brought it home and loved the food. Then we're online and started ordering it. Now I give it away as gifts and send it to my adult children to make their days easier since it's so easy to prepare and so good. Had one issue where something didn't show up they refunded it as soon as I got a hold of them.