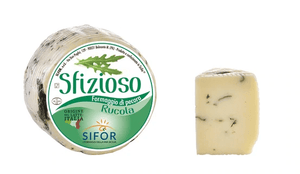 Product Description:
Sfizio Primo Sale Sicilian Pecorino with Rucola is Italian Pecorino cheese infused with rocket, or a peppery kind of arugula. Pieces of green leaves are immediately noticeable in this Italian cheese, giving it an herbaceous taste and aroma. The distinct flavor of this semi-soft Pecorino cheese makes it a wonderful table cheese, as well as a great ingredient for antipasto.
Size:
14 oz
Origin:
Sicily, Italy
Did not receive one item
All the products came well packaged. No damage. I did not receive one of my items though. I did not receive the Oro Nero Crema Al Caffe. I have written the manager and I hope they will send it to me. If they do, I will order from these folks again. I hope I get good service for this problem, as the forgotten item was indeed charged to my account.
Primo Sale Sicilian Pecorino with Rucola - 14