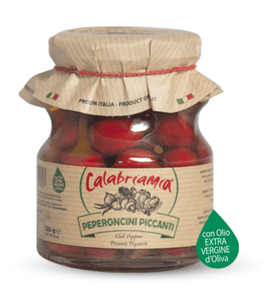 The Red Calabrian Chili Pepper or Peperoncini Piccanti produced by the factory Calabriamia, are preserved in sunflower oil and extra virgin olive oil. They are very common in the homemade cooking tradition for their adaptable use.
Calabriamia is the line which has been created to satisfy the most exacting consumer, who is looking for special tastes; the line is characterized by a careful selection of raw materials, the use of typical Calabrian recipes using extra virgin olive oil and a packaging which offers a high visual impact thanks to the use of colours and tastes which provide an immediate connection with Calabrian tradition.
Good but wasn't what I expected.
Fantastic!
Got my Calabria peppers yesterday and half is already gone...I can't stop eating those little peppers!