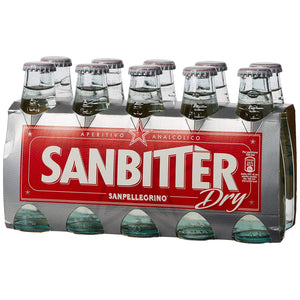 Product Description:
San Pellegrino Sanbitter Dry White Bitter is an extremely popular Italian aperitif, meant to be drunk before meals. This Italian drink is non-alcoholic, but it is also commonly used to make mixed drinks and cocktails. With fruity notes and a dry, sparkling body, San Pellegrino Sanbitter Dry is an iconic Italian drink that anyone can enjoy.  
Ingredients:
Water, sugar, gluco-fructose syrup, carbon dioxide, flavourings, acidifier: citric acid.
Size:
10 bottles - 3.38 oz each
Shipping flat rate applies only up to 5
 

pieces  

Origin:
Italy