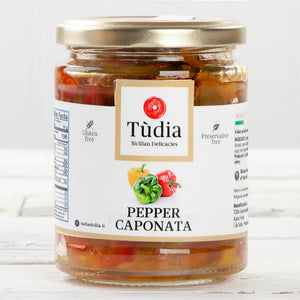 The distinguishing ingredient of eggplants are left out of this caponata.  A delicious combination of red and yellow bell peppers are complimented with onions, tomato sauce, evoo, basil, salt and wine vinegar.  Perfect on its own and/or paired with bread slices, grilled meats, and fish like Mahi Mahi, Tuna, or Swordfish.
Sicilian speciality made from bell peppers.
INGREDIENTS: bell peppers 70%, onions, tomato sauce (tomato, onions, extra virgin olive oil, basil, salt, sugar), sugar, extra virgin olive oil 2%, wine vinegar, salt, basil.
USE: ideal as an appetizer or a side dish.

 The product contains neither preservatives nor dyes nor thickeners and in any case no other substance besides the declared ingredients.
NO GMOs (Reg. 1830/2003 and 1829/2003) – NO HYDROGENATED FATS – NO GLUTEN.