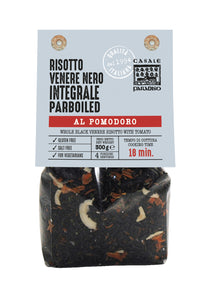 Description
Ready-to-cook risotto, Whole black venere risotto . tomatoes and dried vegetables. Pack of 300 gr. Cooking time: 16 minutes.
Ingredients
Whole black venere rice, Tomatoes, parsley, chives, garlic, 
Indications
Pour the contents of the package into a non-stick pan. Cover the rice with 1 liter of boiling water (or vegetable broth for more flavor). Add 4 tablespoons of extra virgin olive oil, 2 teaspoons of salt and start cooking over medium heat. When the mix begins to boil, turn the heat down to a simmer, stirring occasionally. Cook for about 16-18 minutes. When the water is absorbed, the risotto is ready. It should be soft slightly al dente. Add more hot water a little at a time if you prefer the rice to be more cooked. Remove from the heat and it is optional to stir in a knob of butter and grated Parmesan before serving.