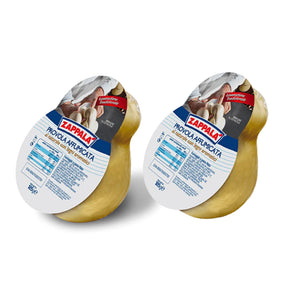 Description
This Provola Cheese is made traditionally
This Italian provola cheese is stretched and aged to give it a semi-firm texture.

Enjoy this Italian cheese on a charcuterie board with dry-cured meats and fresh fruit.
Zappala' Provola is a stretched curd cheese with a rich flavor and aroma. Try this pear-shaped provola on an Italian cheese board with fresh fruit and artisan crackers. Grill this provolone cheese and top it with fresh herbs, coarse sea salt, and a drizzle of extra virgin olive oil. Or enjoy this type of semi-hard cheese on a panini with sun-dried tomatoes.
Ingredients:
Pasteurized cow's milk, salt, rennet
Size:
6.7 oz (190g) each - Pack of 2